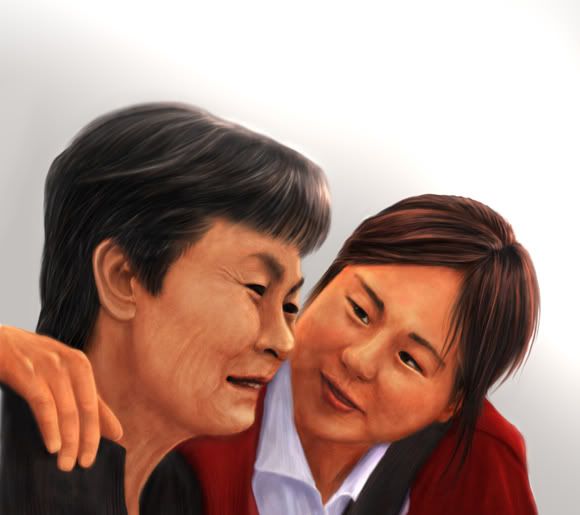 Protrait 07 done in for my bigger artwork for tribute to the victims of earthquake. The link to the final artwork
here
.
Short description:
Picture of Ceng Xiao Chun (right, in red) console a elderly victim. After the 5.12 Sichuan earthquake, she, a Fucheng District Court staff, and many other Chinese people of different jobs joins the team of earthquake relief volunteers immediately.
Instead of help move things for the victims, or cooking… Xiaochun has seen a lot of volunteers doing similar work. She believes that there was a need to cover the blind spots that other people didn't think of. The temperatures gradually increased, hygiene need to be resolved. Therefore, she and a special group acquired the anti-mosquito water, powder, sulphur soap, underwear, urine, sanitary napkins and other supplies, distributed to victims in the fastest possible time. So far, They have distributed thousands of underwear to the victim.
A four-month child's mother, victim of earthquake in Beichuan, told reporters, "We do not know her name, really very grateful to her, she's really attentive and thought of everything."