This artwork is a piece i did a month ago after i ended my national service. This is also an entry i entered for Nvdia design fusion contest. Well I didn't win the contest but it was kinda meaningful for me and learned much with the community and other participants there. I'm kinda surprise how well I'm taking it :) Alright Here goes.

When the Sichuan Earthquake happened nobody expected it. It had caused so such devastation to the place that was once very beautiful, and took away the lives of many. What the survivors can do now is to pick up theirselves, carry on with their lives and rebuild their homeland.

Something fortunate at this midst of this crisis, lots of inspirational stories of different people have been born. Soldiers, doctors, policemen, firemen and volunteers, providing help to others have been reported broadly across the media. Some of them worked so hard they didn't sleep at all for a week; some go beyond their duty to save more lives while risking their own, some carry on their duty firmly while they just lost a loved one. The whole country becomes very united and keeps on supporting each other.

Even in other countries where it is not affected by the earthquake, the people are trying to help. Famous actors, actress performed and urged audiences to donate. Singers sing songs to encourage the victims, and writers wrote poems.

It's really very heart-warming to hear all these news, as although something so terrible has happened, the rest of us are all doing their best to help as well. So I thought of myself as an artist at this point I should do something too. I decided to make an artwork tribute as for them and if I am to win I'll be good to donate to the earthquake as well.

So there I start to come out with my story for design fusion.

A deity normally shouldn't interfere in mortal world affairs, but this particular flower fairy (peonies & plum blossom, China's unofficial national flower) was so touched by the extra ordinary actions of different people in times of crisis, she decided to give a helping hand to the people affected by the Sichuan earthquake, blessing Sichuan with prosperity and progress for it to be rebuild, same time giving the people more hope to live on happier. So to do that She actually leaps out from the space that shes supposed to be in and enters the real world. I played around with the borders at the side with only her overlapping to achieve this result.




* I hope to encourage people viewing my work to just have a lighter heart, never and don't think about politics ( i hate that) - just try to appreciate life more. I'm also not intending to go into a propaganda artwork or any sort at the start. Hope nobody is offended by my theme and that you'll liked it. I've have not painted a artwork so huge in 2 years already, main reason being I won't have the time and another reason being that my old computer won't be able to work efficiently. I've worked on this piece for about 30 days, started just a little while after I bought my new computer. Halfway through this contest on 06th June 2008 I finally completed my national service and able to put in all of my time into this work. This is the final result and final entry( took me lots of time man)

The whole artwork is digital painted in Adobe photoshop cs3 with my wacom tablet. Lots of reference used and original resolution is 9000 X 5625. Please enjoy. Comment and critiques are welcomed

!





some closeups




I'll like to encourage and bring up the spirits of people, and tell the people who have seen this artwork to keep on looking forward. So i particularly drew a smile thats really warm and cheerful; it kinda worked for me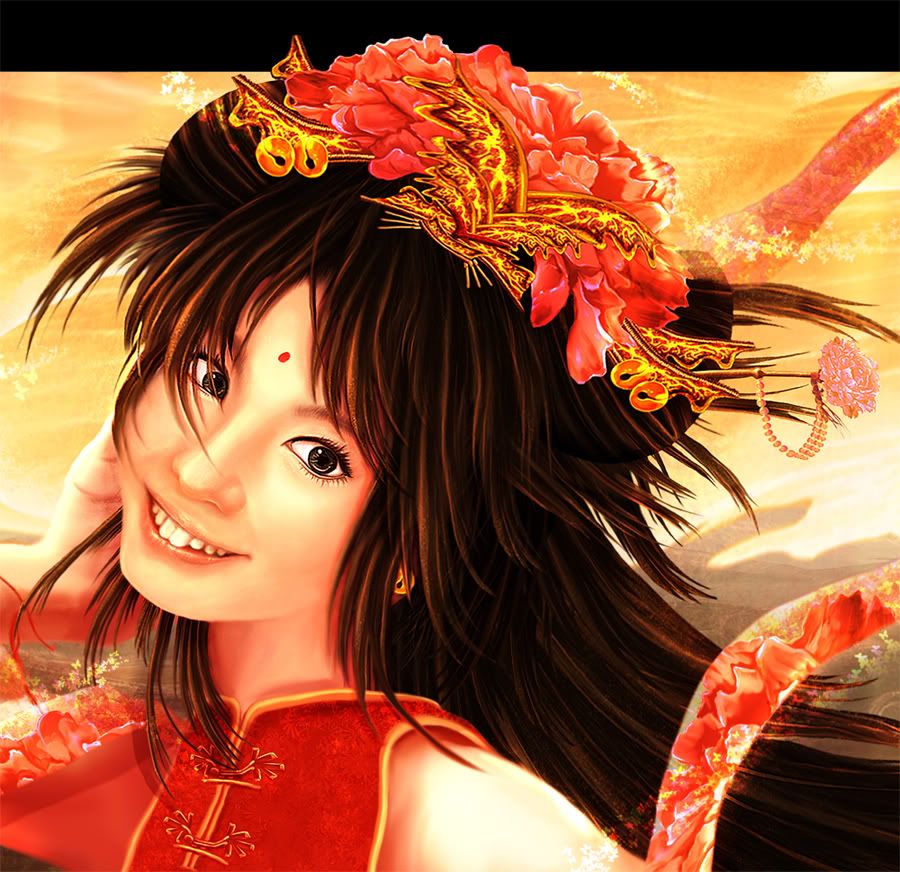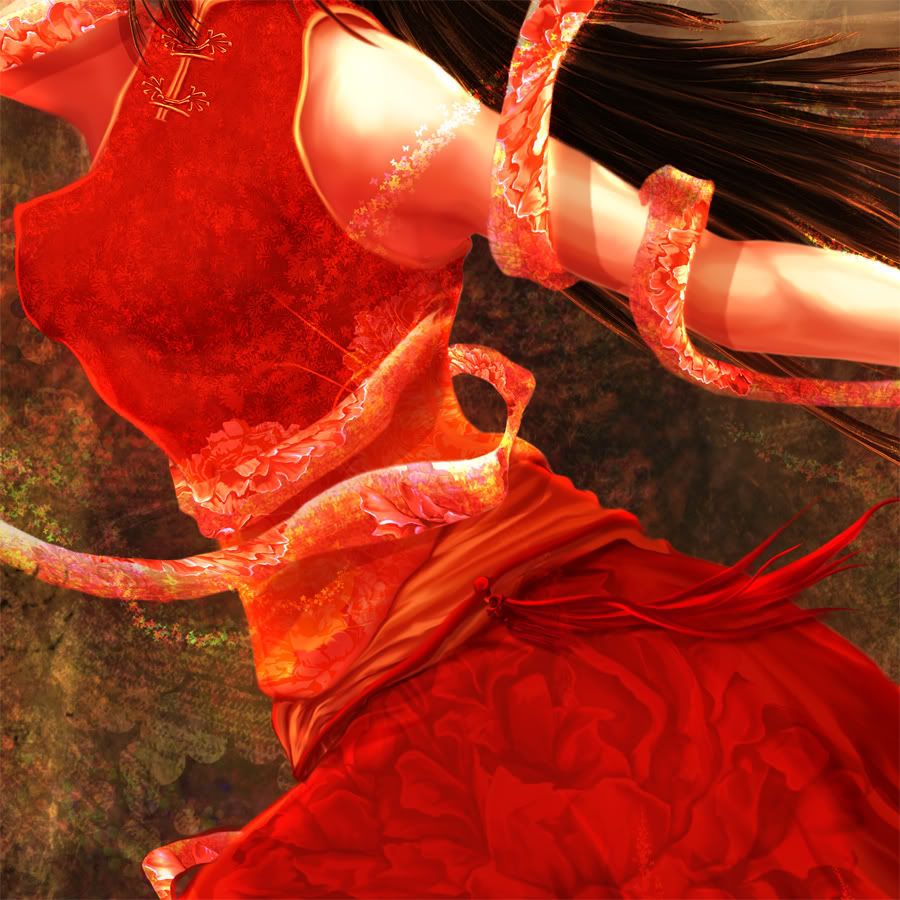 I sincerely believe Sichuan will be rebuild very well in the future and i decided to depict this vision this my artwork. As i take reference from the map, i took the shape of Sichuan as itself and make it look like an 3d island by itself.



- The upper half

i
s the future of sichuan in a very high technology, with buildings equip with anti-earthquake properties and whole city is busy and lively.


- The lower half of the island represents the ruins, devastion and damage done by the earthquake. The bandages are exaggerated to show the wound to the island.


- The Four streams of river

represents the "four circuits of rivers and gorges", which is the name of Sichuan ( It is named after the division of the existing circuit into four during the northern song dynasty ( quoted from wikipedia)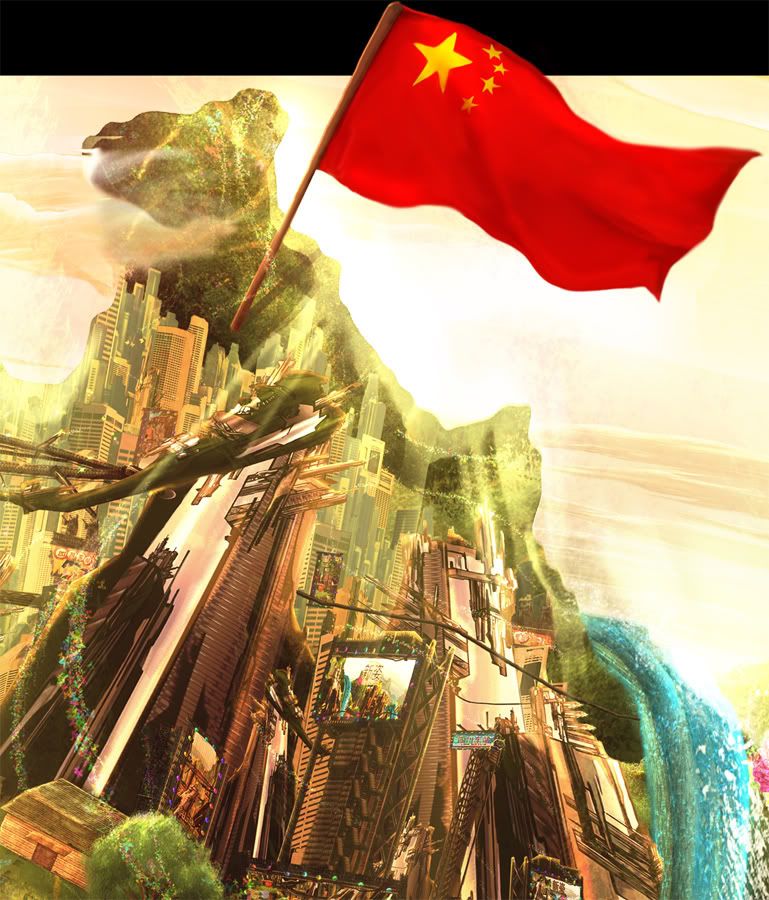 Bullet train in cute style! :P



memorial for the victims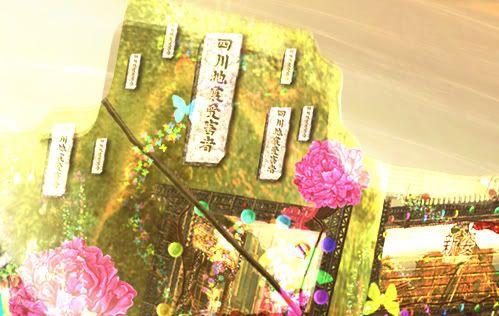 under constuction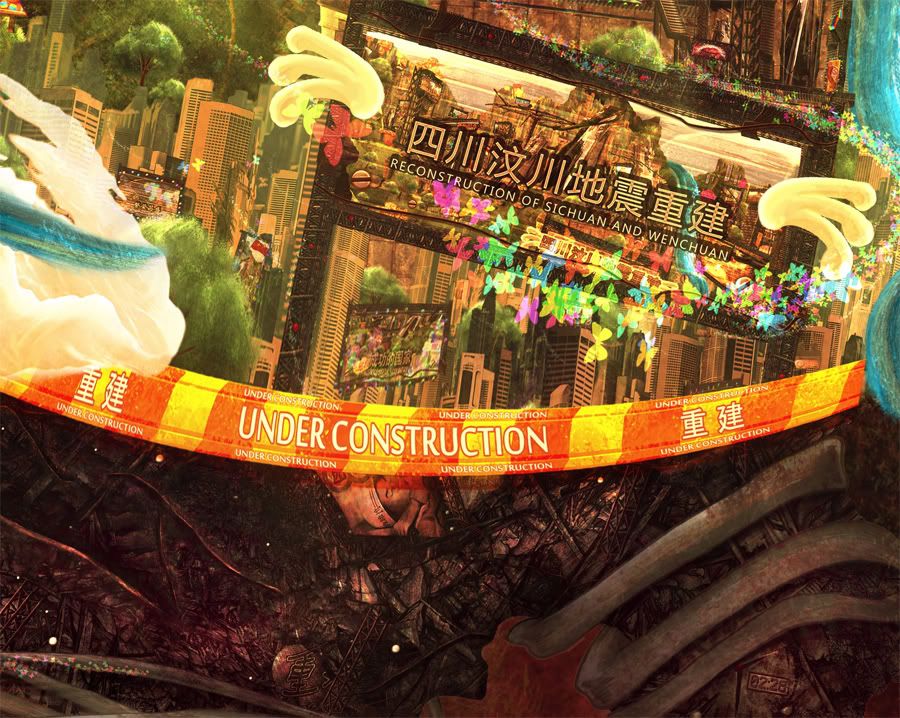 Big cracks representing the earthquake and devastation of buldings into ruins




time at 2.28pm

There are 8 people in the clouds. (

5 + 1 + 2 = 8 , May 12th

) I take reference of them from news channels and each of these I painted separately as a each individual portrait painting by itself then finally compositied them together.


5 of them representing the five main groups of helps & inspirational figures - soldier, doctor, fire-fighter, volunteer, policemen.



1 child holding a candle represents the whole nation feeling sad in silent tribute for the Sichuan earthquake victims.


2 represent the victims having to endure both pain of losing loved ones and losing their homeland.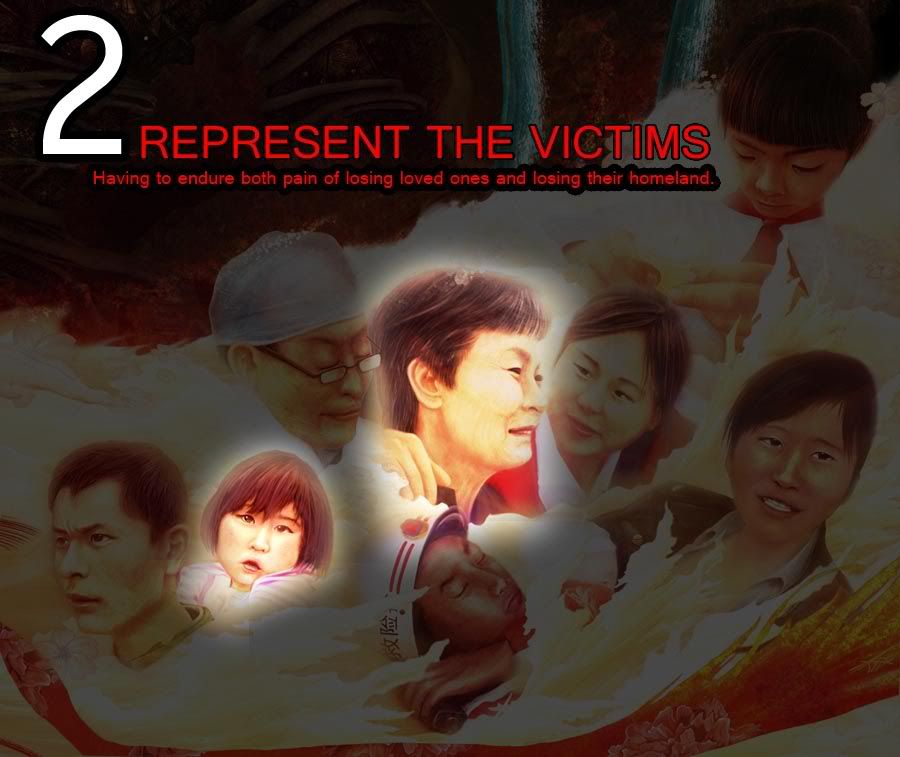 Inspirational stories:
May 16, Sichuan Jiangyou County Public Security Bureau police, Jiang Xiaojuan, breastfeed an orphan at a settlement. Jiang Xiaojuan voluntary helped to breastfeed the orphans of Sichuan earthquake and "heartlessly" left her 6-month old baby to the care of her parents. Her actions has touched the hearts of many in the devastated areas, and brought much confidence, encouragement & hope to them.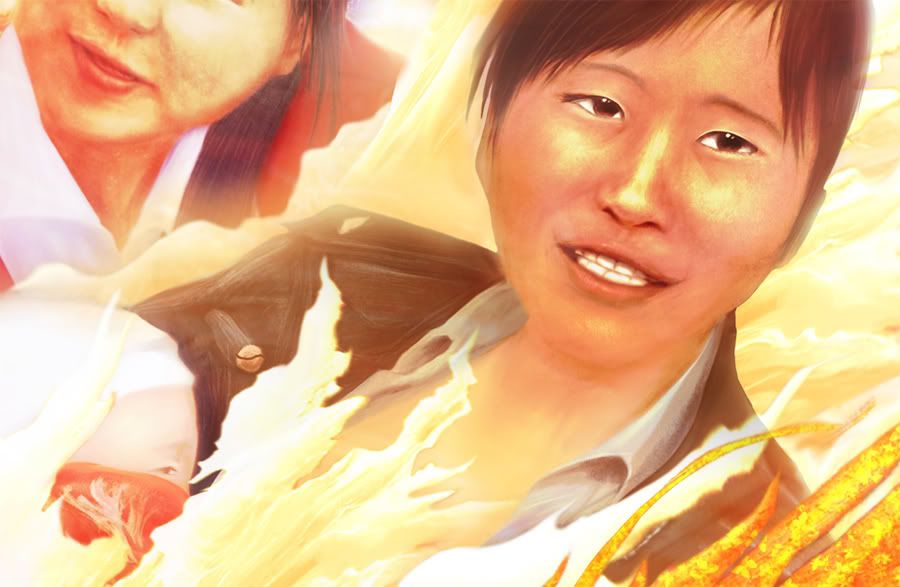 The firefighter is sleeping on a piece of cupboard on the floor after over 50hours without sleep. Yet he is still clinching a walkie-talkie, tight in his fists and forming a uncomfortable position to sleep in. His name is not known and countless army, police, firefighter, doctor, nurses and voluntary personnels like him have saved so many others in the Sichuan earthquake. Their efforts would be remembered.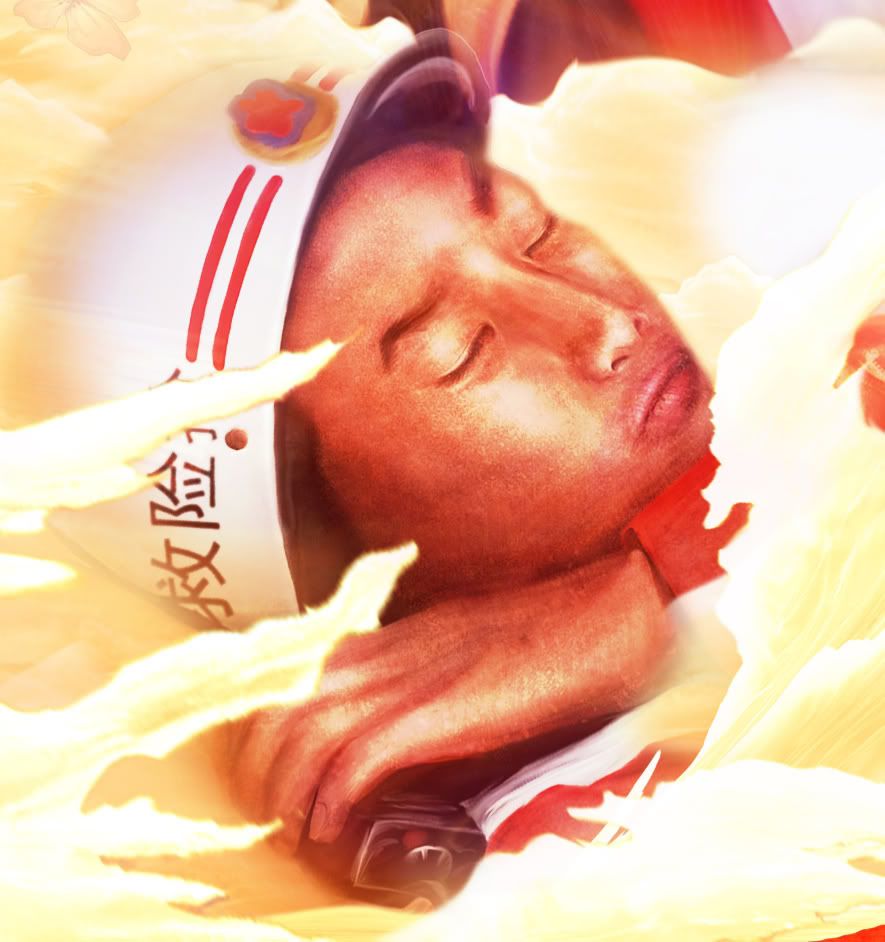 Picture of Zhang Jian bo carrying a girl who is injured across the mountain pass. May 13 shortly after midnight, Zhang Jian Bo of the People's Liberation Army soldiers, along with his recue team, rushed to a secondary school in Sichuan. Their team were given two words - Search & Rescue. The biggest fear in the situation is the aftershocks of earthquake, as the holes are always very narrow to climb into. Yet when Zhang Jian Bo is in danger of a strong aftershock, he says he is too concentrated at rescuing that he didn't realize anything at all.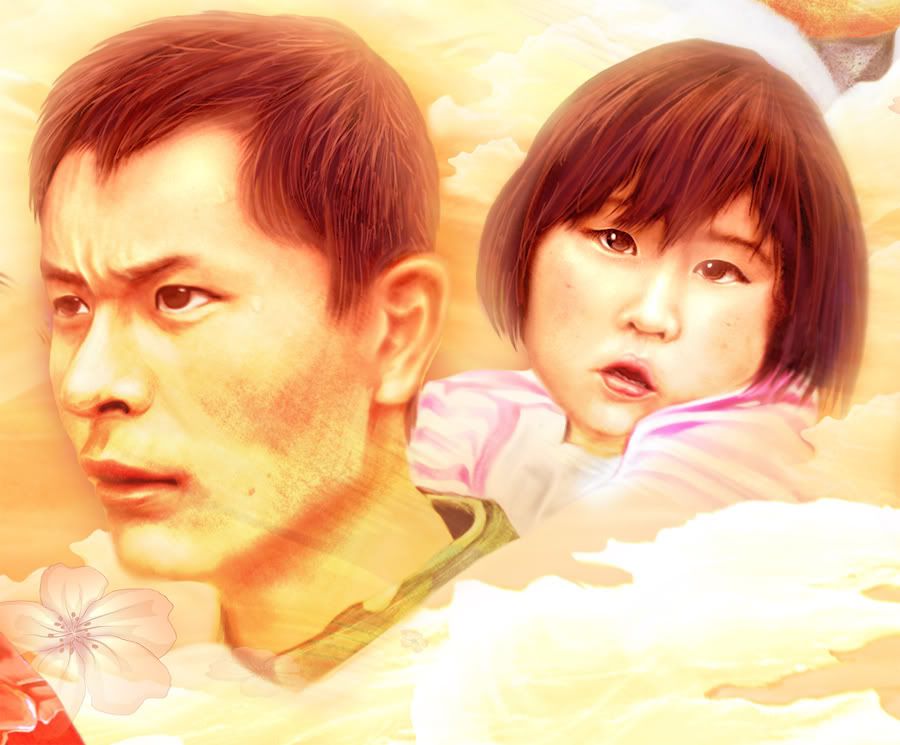 He's sometime stumble, and has a tired looking eyes, but always walked non-stop around different hospital wards, for his appearance always managed to give the victims in hospital some sense of peace. In the frontline of affected areas of Sichuan earthquake, amongst the white clothed warriors, you will find a elderly with a hearing aid, carrying a crutch for himself. He is Lu Shi Bi, 79-year-old orthopedic Professor of the PLA General Hospital. In his 50 years of medical career, this is the 4th time he is involved in earthquake relief. Since May 14. Dr Lu along with the medical team of experts has checked more than 600 wounded. Yet he still complained of walking too slow himself: "if i can walk faster, i can save even more people."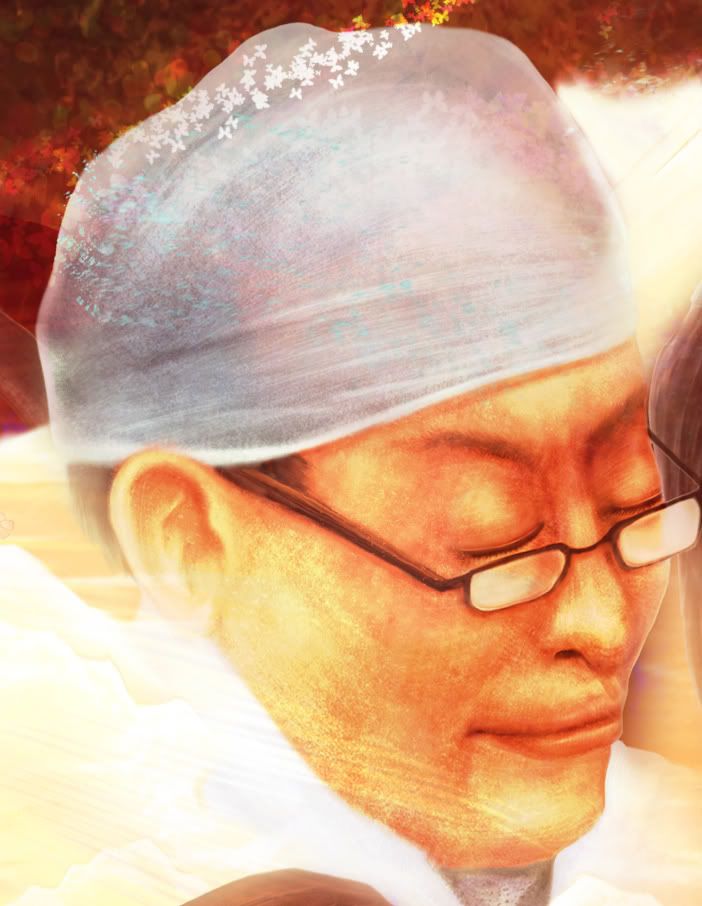 Picture of Ceng Xiao Chun (right, in red) console a elderly victim. After the 5.12 Sichuan earthquake, she, a Fucheng District Court staff, and many other Chinese people of different jobs joins the team of earthquake relief volunteers immediately.
Instead of help move things for the victims, or cooking… Xiaochun has seen a lot of volunteers doing similar work. She believes that there was a need to cover the blind spots that other people didn't think of. The temperatures gradually increased, hygiene need to be resolved. Therefore, she and a special group acquired the anti-mosquito water, powder, sulphur soap, underwear, urine, sanitary napkins and other supplies, distributed to victims in the fastest possible time. So far, They have distributed thousands of underwear to the victim.

A four-month child's mother, victim of earthquake in Beichuan, told reporters, "We do not know her name, really very grateful to her, she's really attentive and thought of everything."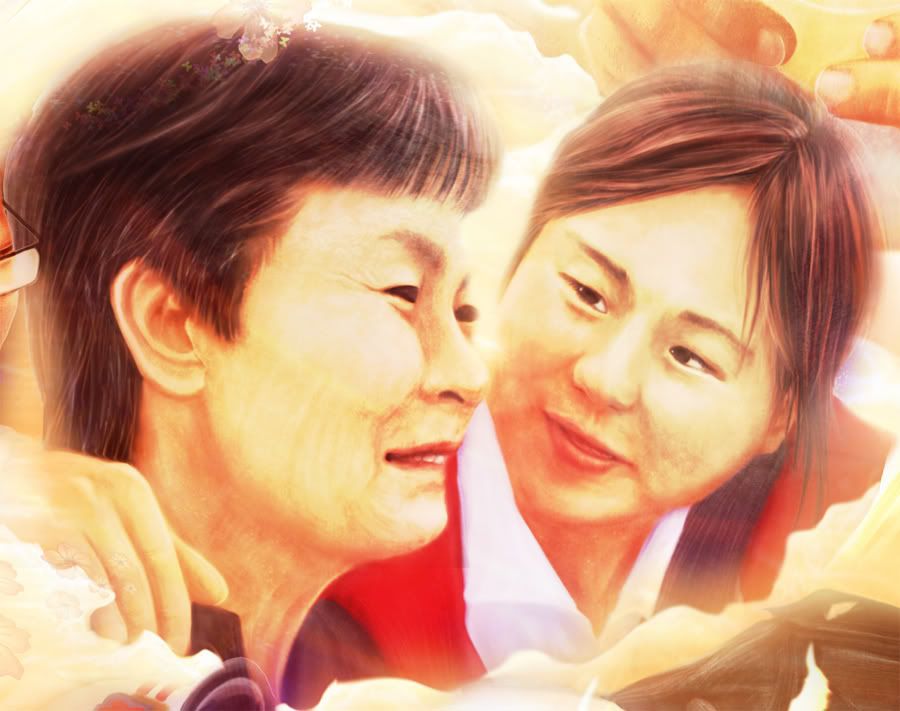 From 19th May tol 21th May is set to be the mourning period for the earthquake. At 2.28pm of 19th May everybody in china stops what they are doing and keep in silent as tribute. Be it cars, trains, boat horns or fire siren, all went off at the same time. This is a moment of silence that speaks louder than words. The picture shows a child from Harbin liberate primary school, which is in Heilongjiang Province of China





Thanks for looking so far. At this date there are 69180 dead, 374008 injured and 17406 lost recorded. If you wish to donate please feel free to do so at the links below

Sichuan sg donation
http://www.mercyrelief.org